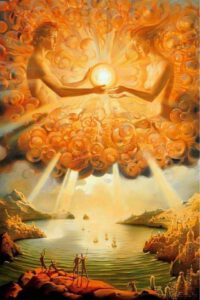 Twinflames is a 5th dimensional relationship connected by the Divine Masculine and Feminine this is a special relationship where both people are spiritual chosen to work together on the Earth, Land and Universe. They are the chosen guardians of the portals, realms and land. They are called Divine as be send by their source out of the Universe. It's a challenging relationship as in some cases the Masculine and Feminine need to reach eachothers spiritual frequency to stay in balance, when the Feminine grows, or the Masculine there will be a disbalance, then a separation takes place to balance and grow in this relationship. Sometimes other relationships come in on both sides to grow and activate both of them into awakening of other frequencies, if these parts are played out their souls will be ready to meet again. The journey in union starts here, in harmony and only love for all in the highest regard. Ready to receive the Starchildren that would change the world as they are meant to be.
It is frequent that the Masculine and Feminine already met in the 5th dimension before coming to the earth. It's also common that the Divine Feminine is already on earth and the Masculine in the realm ready to be born, or vice versa. There can be huge age gaps between both of them. While the Feminine or Masculine live their lives in separation and knows their twinflame is out there and willing to wait till their souls are ready to meet.
If you want to know more if you are a twinflame, karmic, or soulmate,
in relationship or separation. Book me for a reading.
If you and your Divine Masculine going through the Assention symptoms and you need support I will guide you and activate you in 60 minutes into union.
Below you can find a free to watch Twinflame reading, and a Divine Masculine reading to guide you to where you need to go. And resulted in union of many Divine Masculines and Divine Feminines.
The link to my YouTube channel:
www.youtube.com/c/JackiePlatteel
💓 DIVINE MASCULINE reading 
Collective Trapped in fear. Meditate and get out in nature 🌳🍃🌲
"Dissatisfaction and boredom, wants to be free of control.
Step out and victory will follow, succes is around the corner. No more sacrifice!"
***********
💗🔥 Twinflame Reading 🔥💗 ~ Out of war into Love
DIVINE MASCULINE
Sees all with loving eyes
DIVINE FEMININE
Her purity is seen by so many people around her. She is unstoppable in her journey
They are the custodians of the cosmic realms and Mother Earth
***********
Divine Masculine reading 💗
"Transform shadow into light, be truthfull to yourseelf, recognise the red flags in the distance"
***********
💖🔥 Twin flame reading 🔥💖
DIVINE MASCULINE
Release past life wounds, balancing anger, time to play again!
DIVINE FEMININE
Be at peace in heart, sovereign in being, change your relationship patterns
***********
DIVINE MASCULINE reading
NEW beginning on all levels. NEW you through 💖💖💖
***********
💖🔥Twinflame reading🔥💖
Divine Masculine
New initiations in 🥰.
Divine Feminine
You are the last Chocolate 😄
***********
DIVINE MASCULINE
Totally connected with love. Stay in your truth always! Divine Feminine can handle more than you think. Clear out the mind.
DIVINE FEMININE
Detached from all lower frequencies. Deeply connected with love, bridging the new
***********
1-8 March 2022
DIVINE MASCULINE
Connecting with the Elders, receiving wisdom, huge transformation and releasing old identities
DIVINE FEMININE
Create space for yourself, don't take one other peoples burdens and projections. Create Joy, Emerge to freedom!