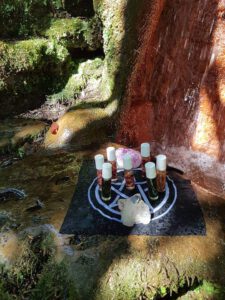 Do you want to use these healing oils with extraordinary smell?
These oils are extra powerful, because they are uploaden in the high frequency of Glastonbury UK.
There are several oils and sprays available. Each oil has her own specialty and effect.
If you want to order one ore more oils, please contact me via the contact form.
Eclips Moon protection
Soften the shadow emotions during the shadow time of transformation.
Blue Moon oil
Support the succes and abundance and soften the transformation.
Silver Stardust
Connect to your Star Family, opening third eye and crown chakra.
Clairvoyance seeing through the veils
Golden Stardust
With Gold dust and Blue Lotus.
Activate your willpower, abundance and inner knowledge, happiness and joy
Aphrodite Sacred Sexuality
Activate the sexual sacral chakra.
Mary Magdelene J-Vibe
Attract the love in your life and helps to open the heart chakra.
Lions oil
Go happy into the dark time.
Support and transmute into sunlight and conquer all.
Relax J-Vibe
Out of the thinking, calms the nervous system and release headaches.
Happy Blood
Support and calms the menstrual cycle, relieve cramp and heavy bleeding.
Mary Magdalene Aura Spray